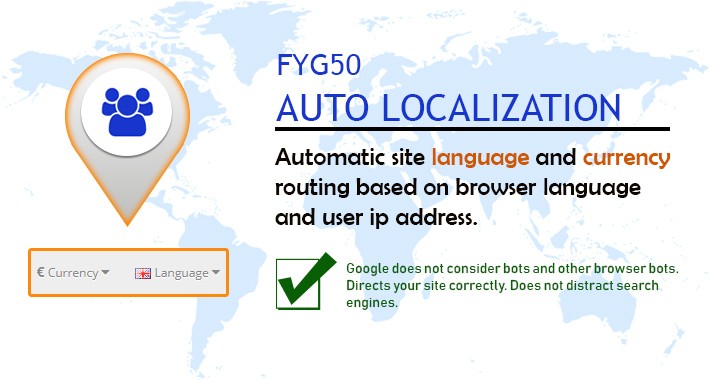 Your Site, Automatically redirect the Site Language and Currency of your visitors from different countries.
If you have an incompatible language between your Visitors and Site languages, you can set it to a different language and currency than your standard store language settings.
In this way, in your OPENCART store, Fyg50 Auto Localization sets the automatic language and currency of visitors to your site.
When you download this plug-in to your site, you will complete the missing feature to get started with international e-commerce by offering an excellent shopping experience for your visitors from any language.
WHAT ARE FEATURES?
Language redirection
1) Setting the site language according to the preferred language of the browser your visitor is logged into.
Unlike other add-ons, we chose to redirect it based on the browser language, instead of directing it based on the IP address, because it made more sense for us to navigate to your site based on the language of the visitor's browser.
You ask why ?
Because an American resident in Germany may prefer to use the English language instead of the German language on his mobile phone, computer or any other device, so that he / she can adjust the language of your site according to the language preferred by the visitor.
2) Redirecting incompatible language to a different language
For example: If the user's browser language is Turkish and your website does not yet have this language, you can direct it to a different language instead of your existing site language.
Currency redirect
1) This feature sets the automatic currency based on the visitor's ip address.
In this way, you can make your incoming customers to shop in their own currencies effortlessly.
2) Redirecting incompatible currency to a different currency
For example: If your incoming visitor's currency is Turkish Lira and your website does not have a TRY currency, you can redirect it to Dollar USD instead of redirecting it to your website's current currency.
We've prevented
G

o

o

g

l

e

bot
and other
search engine bots
from misunderstanding your site.
With this feature, we have prevented your website from being misunderstood by bots and indexing it with incorrect site language.
How do I test this plugin?
Visit the demo page and see automatic detection.
Note: There are only 2 languages ​​and 4 currencies in our demo page. Do not forget it
To see how the automatic site language works, change your browser's preferred language and clear all cookies from your browser, then check our demo page again
Log in from different countries by disabling cookies with the help of any proxy to see how the automatic currency works.
DEMO:
FRONT END
BACK END
User:
demo:
pass:
demo
EXTENSION URL:
https://www.opencart.com/index.php?rout ... n_id=36624