OpenCart Google reCaptcha protects your online store from spammers, abuse, and evil bots by providing extra security to the website. Spambots can cause damage to the website and its content. It is often said that the Google reCaptcha is hard for bots and easy for humans.
OpenCart Google reCaptcha
ensures that the user is a human, not a bot. It blocks the entry of spambots if they try to access the website. The store admin can integrate Google reCaptcha on multiple web pages like customer login page, customer registration page, customer contact, forget password page, etc. The extension can be easily installed and configured. OpenCart Accelerated Mobile Pages extension is compatible with OpenCart version v2.0.x - v3.0.x.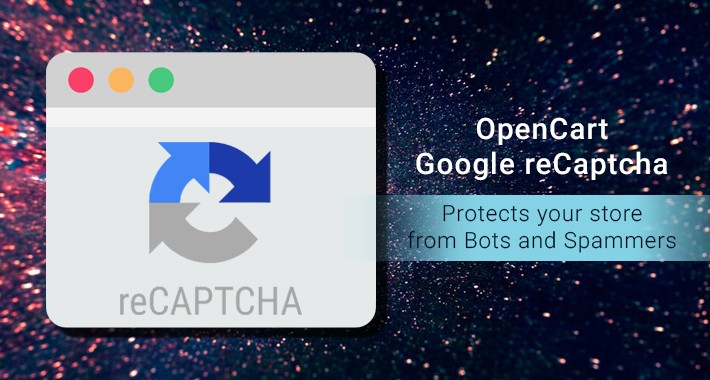 More info and purchase here: OpenCart Google reCaptcha
ADMIN DEMO
FRONT END DEMO
Features:
1. Easy Installation and Configuration:
OpenCart Google reCaptcha is super easy to install and set up and no advanced knowledge is required to configure the extension.
2. Increases Website Security:
The extension helps in restricting the entry of spambots and abuse from the website and helps in driving quality traffic to the online store.
3. Integrate reCaptcha on Multiple Pages:
The store admin can show or hide Google reCaptcha on various web pages including the Customer Login page, Customer Registration page, Customer Contact page, and Customer Password Forgotten page.
4. Specify Login Attempts:
The e-merchant can specify the limit of login attempts from the back end of the extension after which Google reCaptcha will display to verify the identity of the user.
5. Interactive Themes:
The extension offers Light and Dark themes to display Google reCaptcha on the web pages.
6. Custom CSS and JS Feature:
The store admin can do advanced modifications in the extension using Custom CSS and JS feature from the back end of the extension.
7. SSL compatibility:
OpenCart Google reCaptcha is SSL compatible.
8. Multi-themes and Multi-store compatibility:
The extension is compatible with all the OpenCart themes and has multi-store compatibility.
9. Multi-lingual:
OpenCart Google reCaptcha supports multi-languages.
Merchant Benefits:
1. The extension helps in restricting the spam bots and abuse from accessing the website and provides extra protection to the website and its content.
2. The extension is quite easy to install and configure.
3. With the help of the extension, the e-merchants can drive quality traffic to the website and can protect the website from various spam attacks.
4. Verifying the user identity with Google reCaptcha is quite easy.
5. OpenCart Google reCaptcha prevents the spam bots from auto form fillings on the website.
In case of any query regarding this extension, feel free to ask at
support@knowband.com
.